Consolidate your systems into one, use an integrated solution.
Biz365 is a localized Microsoft Dynamics 365 Business Central (D365 BC) – a modular solution on the cloud infrastructure that optimizes common implementation and maintenance investments, and provides complete business support for small and medium enterprises.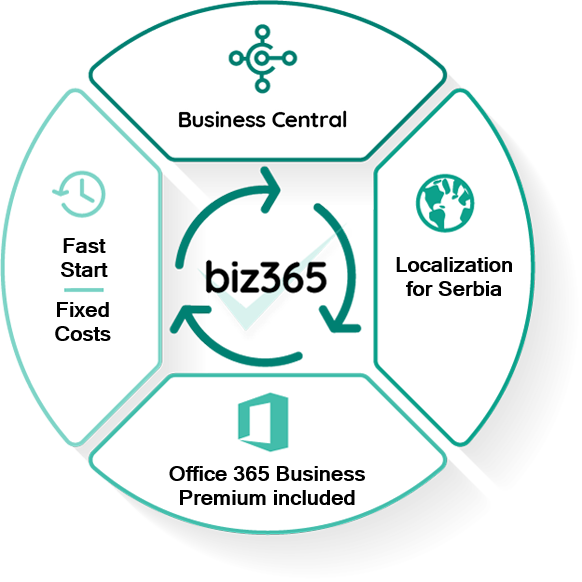 Biz365 – the key to making your business more competitive!

Optimize operations and improve sales
With your enterprise-grade business suite and integrated Office 365, automate procurement, sales and production processes, optimize warehouse operations with efficient inventory management. Turn sales opportunities into sales and make a profit.

Improve your supply chain and avoid losses
Automatically generate production plans based on actual needs and sales forecasts. By controlling inventory levels and getting timely notifications, effectively manage your entire warehouse, reduce inventory levels, and improve their turnover and maximize return on invested capital.

Increase productivity and improve services
Track team performance, task completion, and enable efficient resource management. Improve and shorten request processing time, reduce error space, and improve service quality. Your customers will appreciate that.

Successfully manage your finances
Biz365 covers all your accounting software needs, is designed for businesses of all sizes because it "grows" with you and your business, contains all international accounting standards, and is also compliant with local law (local market accounting practices).

Customize it, use it everywhere
Biz365 is developed on cloud technology to fully meet all business requirements, mobility and availability requirements, while modularity of the solution allows you to start with what you need now and customize or supplement when you want. You only pay for what you use.
Collaborate with Microsoft Dynamics 365 experts
NPS is a Microsoft Dynamics Gold Partner , a company with years of experience working with businesses of different sizes and industries.
We can help you decide what is the greatest value to your business and how to successfully digitally transform your business.
The numerous implementations and integrations of Microsoft Dynamics solutions with other software have enabled us to develop a business support system that our end users can use immediately, without special training, complicated integration and additional costs.